RESERVEE AUX PERSONNES MAJEURES / ONLY FOR PEOPLE OVER THE LEGAL AGE
--------------------
Formation de deux salopes, un Black et un Blanc

(Version avec sous-titres en anglais)
Black and White sluts' training

(Version with English subtitles)

Vidéo complète - grand format :
1 h 20 min - 3.8 Go - 35 €
(AlloPass ou Paypal)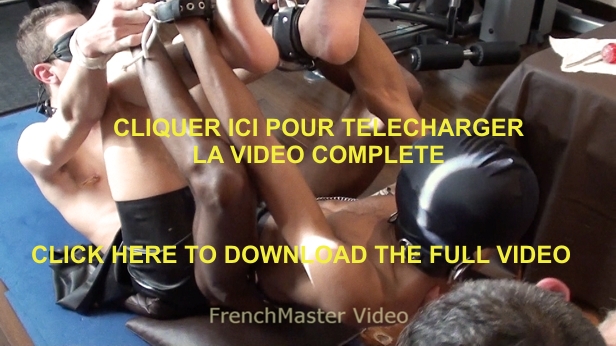 Partie / Part 1 : 7 min 53 s - 1 code AlloPass

Les deux lopes à 4 pattes lèchent et sucent ensemble la queue de leur Maître. Ensuite le Black lui lèche les pieds puis suce le Latino pendant que le Blanc lèche le cul du Black.

Both sluts on all fours are licking and sucking their Master's cock. After that the Black slut licks his Master's feet and sucks the Latino while the White slut is rimming the Black asshole.


Partie / Part 2 : 10 min 58 s - 2 codes AlloPass

Les deux salopes sont attachées à des chaînes, bras en l'air, à genoux et dos à dos. Le Latino leur met à chacun un plug anal et leur travaille le cul.
Both bitches are attached to chains, arms up, on the knees and back to back. The Latino assistant puts a butt plug in each ass and works them.




Partie / Part 3: 4 min 58 s - 1 code AlloPass

Le Black se fait niker sans capote par son Maître tandis que le Latino gode le Blanc.
The Black slut is fucked raw by his Master while the White slut has his ass worked with a dildoe by the Latino.




Partie/ Part 4: 12 min 02 s - 2 codes AlloPass

Les deux salopes sont cul à cul, jambes attachées en l'air. Elles se partagent un premier gode à 2 têtes puis un autre beaucoup plus gros.
The 2 sluts are ass to ass, legs tied up. They share a double head dildoe and then another but really bigger.