RESERVEE AUX PERSONNES MAJEURES / ONLY FOR PEOPLE OVER THE LEGAL AGE
----------------------------------------
Fox : premier jour de formation

(Avec sous-titres en anglais)
Fox Training Day #1

(With English subtitles)

Vidéo complète - grand format :
45 min 17 s – 2.02 Go – 25 €
(AlloPass ou Paypal)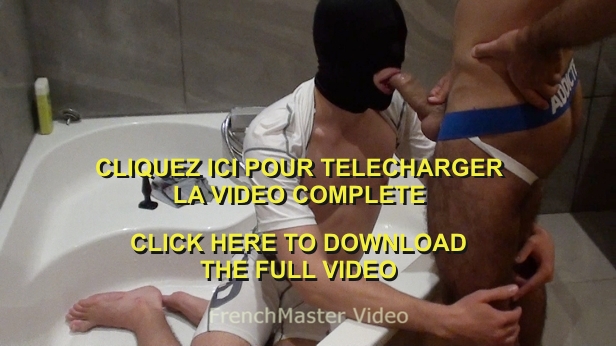 Partie / Part 1 : 9 min 14 s - 1 code AlloPass

Fox est accueilli à la station de tram par son coach, Matthew, pour un week-end de formation. Dans la voiture il lui passe les menottes et vérifie qu'il a bien voyagé avec la cage de chasteté et son plug. Arrivé chez FrenchMaster il le déshabille en partie et l'installe dans la baignoire.
Fox is welcomed in the streetcar station by his coach, Matthew, for a weekend of training. In the car he handcuffs him and checks that he traveled well with the chastity cage and his butt-plug. Arrived to FrenchMaster he undresses him partially and installs him in the bathtub.
Partie / Part 2 : 6 min 31 s - 1 code AlloPass

L'assistant Latino donne à Fox une leçon de lavement.
The Latino assistant is teaching Fox how to make an enema.


Partie / Part 3: 11 min 55 s - 2 codes AlloPass

Fox reçoit la pisse en bouche et se fait arroser par FrenchMaster, le Latino et son coach. Puis il suce son Maître et reçoit des pinces à seins.
Fox receives piss on him and in his mouth from FrenchMaster, the Latino assistant and his coach. Then he sucks his Master and gets tit clips.


Partie / Part 4: 12 min 34 s - 2 codes AlloPass

Fox suce son coach et le Latino qui lui met des pompes à seins.
Fox sucks his coach and the Latino assistant who puts some pumps on his nipples.


Partie / Part 5: 5 min - 1 code

L'assistant Latino travaille le cul du jeune félin avec deux plugs avant de l'enculer bareback. Son Maître jouit sur sa gueule ouverte puis lui ordonne de se branler et de jouir.
Fox sucks his Master, who jizzes on his tongue, and swallows his cum.