Klebs (19 a) pris en mains par FrenchMaster

Klebs (19 yo) taken up by FrenchMaster

Vidéo complète - grand format / Complete video - large format:
57 min - 2.54 Go - 25 €
(AlloPass ou/or Paypal)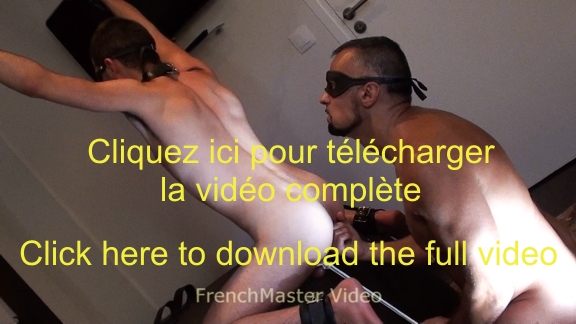 Partie / Part 1 :

14 min 17 s

- 2 codes AlloPass


Klebs, petit batard de 19 ans, venu en stage d'été chez FrenchMaster commence par une séance de tonte et de rasage du cul et des couilles.

NB : XTube a censuré l'extrait et la version complète de cette 1ère partie. Ils sont donc accessibles en version mp4 (streaming)

Klebs, small 19-year-old bastard, come in a summer training course to FrenchMaster, begins with a session of coping and shaving of the ass and balls.


NB: XTube censored the extract and the complete version of this part #1. Thus, they are available in mp4 version (streaming)




Partie / Part 2:

12 min 52 s

- 2 codes AlloPass


Klebs est debout, masque sur les yeux, mains attachées dans le dos. Il porte un « parachute à couilles » et des pinces à seins. FrenchMaster joue avec une cravache pour lui frapper les seins, les fesses et les couilles.

Klebs stands, masks on eyes, hands attached in the back. He is wearing a "balls parachute" and tits clams. FrenchMaster plays with a crop to strike his tits, buttocks and balls.



Partie / Part 3:

12 min 10 s

- 2 codes AlloPass



Séance de bondage de couilles par le Latino. Klebs supporte difficilement les 2 poids accrochés à ses couilles (1 kg = 2.2 lbs).

Bondage session organised by the Latino assistant for Klebs' balls. Klebs has some difficulty to bear the weights attached to his balls (2.2 lbs = 1 kg).



Partie / Part 4 :

17 min 50 s

- 3 codes AlloPass



Klebs se fait niker par le Latino puis par FrenchMaster. Klebs lui demande sa récompense : recevoir le jus de son Maître au fond de sa chatte! A la fin il fait s'écouler le jus de son petit trou.

Klebs is fucked by the Latino and then by FrenchMaster. Klebs is asking for his reward: to get his Master's cum up his ass! At the end he pushes the cum out of his tight asshole.