Polux, jeune salope gourmande (24 a)

Polux, young greedy slut (24 yo)

Vidéo complète - grand format / Complete video - large format:
60 min - 2.7 Go - 25 €
(AlloPass ou/or Paypal)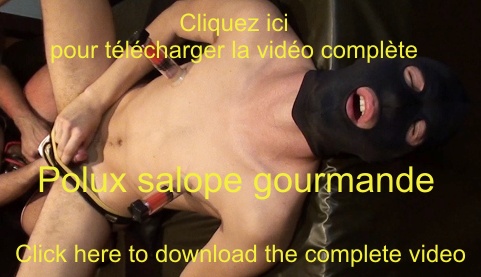 Partie / Part 1 :

8 min 37 s

- 1 code AlloPass


A genoux avec son string, Polux suce son Maître dans le salon, sans attendre d'être dans la salle de jeu.

On his knees and with his string, Polux is sucking his Master in the living room, enable to wait until being in the playroom.




Partie / Part 2:

12 min 22 s

- 2 codes AlloPass


Allongé sur le dos à même le sol, Polux excite son Maître en se doigtant et se caressant la chatte comme une bonne salope gourmande. FrenchMaster répond à se demande et l'encule direct, sans gel ni capote.

Still Laying on his back, direcly on the floor, Polux is exciting his Master, fingering and caressing his cherry as a good greedy slut. FrenchMaster is ansxering his demand fucking him directly, without lubricant nor condom.



Partie / Part 3:

9 min 5 s

- 1 code AlloPass

Polux suce l'assistant Latino, se fait goder et reçoit des pompes à seins.


Polux is sucking the Latino assistant, using dildoes and he receives nipple pumps.





Partie / Part 4 :

10 min 44 s

- 2 codes AlloPass

Polux se fait travailler le cul avec de gros godes, en particulier une boule de bon diamètre!

Polux has his ass worked with big toys, especially a large ball.