RESERVEE AUX PERSONNES MAJEURES / ONLY FOR PEOPLE OVER THE LEGAL AGE
----------------------------------------
Initiation de Sweety, petite salope Black de 22 ans

(Version avec sous-titres en anglais)
Initiation of Sweety, little Black slut (22 yo)

(Version with English subtitles)

Vidéo complète - grand format :
1 h 14 min - 3.3 Go - 30 €
(AlloPass ou Paypal)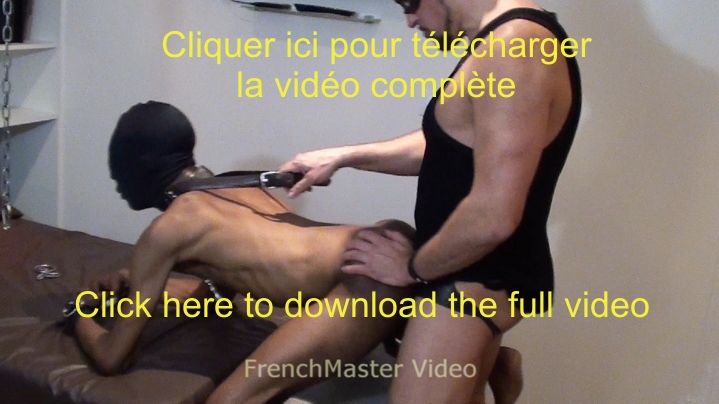 Partie / Part 1 : 10 min 37 s - 2 codes AlloPass

Sweety, petite salope Black de 22 ans, apprend comment sucer son nouveau Maître. Pour lui prouver son respect il lui lèche les pieds et les jambes.
Sweety, a little 22 yo Black slut is learning how to suck his new Master. To show his respect to him he is also licking his feet and legs.


Partie / Part 2 : 10 min 23 s - 2 codes AlloPass

Sweety est pris en mains par l'assistant Latino. Sweety est attaché au plafond par des chaines. Le Latino lui met des pinces à seins. Il reçoit une bonne fessée et se fait bien lécher le trou.
Sweety is taken in hand by the Latino assistant. Sweety is attached to the ceiling by chains. The Latino put clips on his tits. He receives a good spanking and has his asshole well rimmed.




Partie / Part 3: 9 min 36 s - 1 code AlloPass

Sweety reçoit 10 coups de fouet car il est arrivé en retard. Il doit compter chaque coup et remercier son Maître à la fin. Son Maître joue avec les seins de Sweety, après avoir retiré les pinces, pour le faire gémir.
Sweety receives 10 lashes because he was late. He has to count each stroke and thank his Master at the end. The Master plays with Sweety's tits, after taking the clips off, to make him moan.




Partie/ Part 4: 12 min 46 s - 2 codes AlloPass

Sweety, toujours attaché aux chaines et à genoux sur le banc, est niké sans capote par son Maître. Il apprend à faire travailler sa chatte pour donner du plaisir à la queue de son Maître.
Sweety, still attached to the chains and kneeling on the bench, is fucked raw by his Master. He learns how to work with his pussy to give pleasure to his Master's cock.