RESERVEE AUX PERSONNES MAJEURES / ONLY FOR PEOPLE OVER THE LEGAL AGE
----------------------------------------
Week-end de formation de Toy

(Nouvelle version plus longue et avec sous-titres en anglais)
Toy's week-end training

(New version langer and with English subtitles)

Vidéo complète - grand format :
33 min 14 s - 1.48 Go - 17 €
(AlloPass ou Paypal)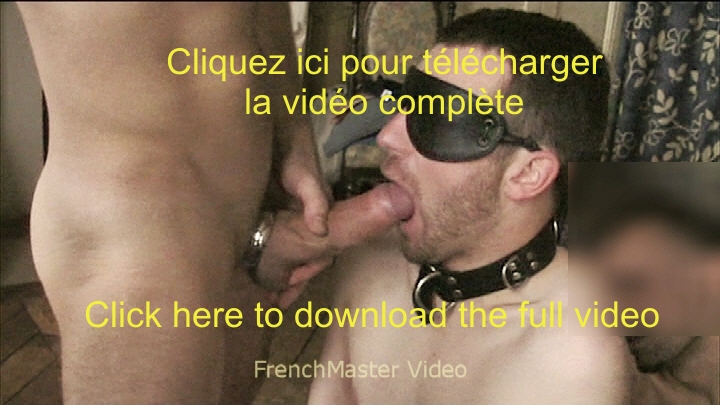 Partie / Part 1 : 10 min 06 s - 2 codes AlloPass

Toy est envoyé chez FrenchMaster par son maître pour un week-end de formation. Dans la partie 1 il apprend à faire des gorges profondes et l'assistant Latino lui dilate l'anus avec un plug gonflable.
Toy is sent to FrenchMaster by his master for a week-end of training. In part 1 he learns deep throat. The Latino assistant is opening his asshole using an inflatable ass plug.
Partie / Part 2 : 10 min 29 s - 2 codes AlloPass

Toy est attaché et est soumis à des coups de martinet sur le corps et les pieds.
Toy is bounded and is submitted to a cat-o'-nine tails strokes on his body and his feet.


Partie / Part 3: 12 min 37 s - 2 codes AlloPass

Toy doit servir 2 jeunes dominateurs TBM. L'un d'eux est un rugbyman avec une très grosse queue épaisse. Toy a du mal à la prendre au fond de sa gorge mais c'est pire quand il doit se faire enculer tout en pompant l'autre grosse queue. Toy a beau les supplier d'arrêter ça a plutôt pour effet de les exciter encore plus. A la fin les invités jouissent sur lui et il est autorisé à regarder ces grosses queues.
Toy has to serve 2 young dominant guys with big dicks. One of them is a muscular rugby player with a very thick dick. Toy has a lot of difficulty to get it deep in his mouth but it is worse when the guy is fucking him while he has to suck the other big cock. Even if Toy is begging him to stop the only result is that the guests are even more excited and don't want to stop fucking his mouth and his ass at the same time ! At the end they cum on him and he is allowed to watch them.